Thursday, March 23, 2023 -

8:30 am

to

3:00 pm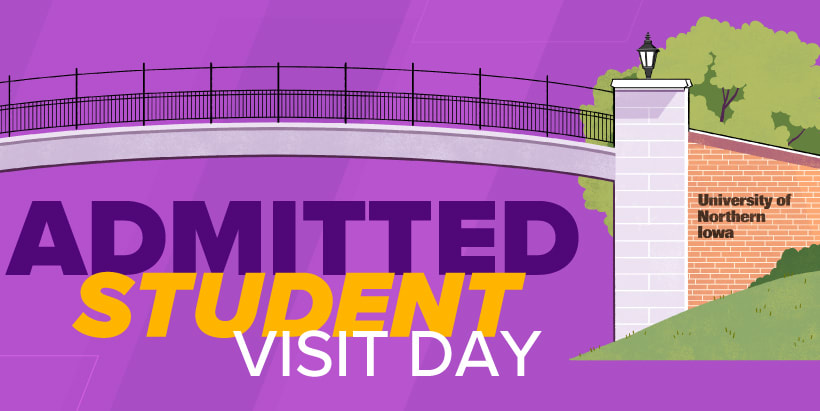 An Admitted Student Day is an optional visit day, only for admitted students, that's focused on next steps. It's a great option for students who are still deciding where they want to attend or students who have chosen UNI and want another look at campus and assistance with what's next. This is not a required orientation event.
The Cultural Connections track allows students to learn more about the resources unique to our campus that help students of color find success and build community.
Agenda
‌8:30-9:00 am
‌8:30-9:15 am
‌9:30-9:50 am
‌10:00-10:45 am
‌11:00-11:45 am
‌12 pm
‌Check In at Maucker Union (Doors open at 8:25 am)
‌Browsing Fair including student organizations
‌Your Next Steps presentation (with optional Cultural Connections track)
‌Session 1 (Descriptions below)
‌Session 2 (Descriptions below)
Optional after-lunch activities:
Campus Tours
Dorm Tours
1:1 Admissions appointments
1:1 Financial Aid appointments
Session Descriptions
Academic Session (Only available for session #2)
Meet with representatives from your interested area of study and hear all about the classes you'll take, the opportunities you can expect and the career paths available after graduation.
Career Services & Student Employment
Hear about all the ways you can identify potential career paths, employment opportunities and career-related experiences once you're a student here.
Diversity, Inclusion & Social Justice
Hear about all the opportunities, resources and programs that support students, including UNI's Center for Multicultural Education (CME), Gender and Sexuality Services and Military and Veteran Student Services.
Financial Aid & Scholarships
Get a look at the estimated costs for the '23-24 academic year and what makes up a financial aid offer. Learn a lot about the financial aid process – and ask any questions you may have.
Honors & Scholars
The Honors & Scholars Programs provide programming, mentoring and support both inside and outside the classroom for students of exceptional motivation and potential. Hear from Honors & Scholars staff and current students about the exciting opportunities that await you!
Housing & Dining
Live the UNI experience, live on campus! We'll discuss how living on campus positively contributes to your overall college experience. Learn about the different dorm options, meal plans and our Live 2 Succeed program.
Music Involvement
Session 1- (Music majors only) - Exploring Degree Options and Career Possibilities
Session 2- (Any major) - Participating in Music Ensembles/Activities
School of Music staff will be on hand to discuss degree programs, scholarship opportunities, music ensembles and more.

Student Involvement
Learn all the ways you can get involved on campus. Whether it's student organizations and clubs, events, or activities, there's so much to do outside the classroom that will help you make friends, develop skills and build connections.
Study Abroad
Discover everything you need to know about studying abroad, including program offerings, funding, courses and more. Program lengths range from two weeks to an entire academic year – with faculty-led options during summer and winter break. Through our unique exchange program, students can expect to go abroad – and pay UNI tuition.
Location:
8201 Dakota St, Cedar Falls, IA 50614